A Guide to Turning Your Home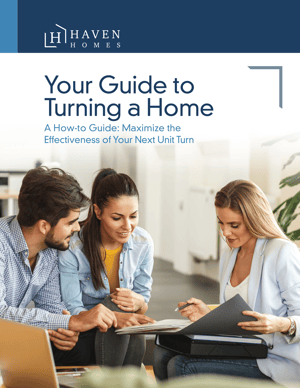 What do you find most stressful about the rental cycle? If you're like most people who invest in residential real estate, you're likely to say turning a unit, which is another name for the process of getting a property ready for new residents after the old ones move out.
What if we told you that you could minimize the stress of this process while maximizing your ROI? Over the years, we at Haven Homes have learned a few secrets from tried-and-true experience—and we're willing to share.
That's why we wrote an entire guide to turning a unit. We know that most investors find the process of turning a home to be especially challenging because there are just so many steps involved—and, as we all know, the more steps, the greater the possibility that things can go wrong.
That's why our guide to turning a home tells you how to:
Realistically assess

your property's market value

Consider resident expectations

Assess repairs and renovations

Evaluate your ROI

Ensure your improvements pay off

Maximize the effect of

the money

you spend

And more!
Don't miss out! Make the most of your investment property by handling this complicated process in a way that minimizes your stress and maximizes your ROI.
Download our how-to guide now!